WOMEN's Bible Studies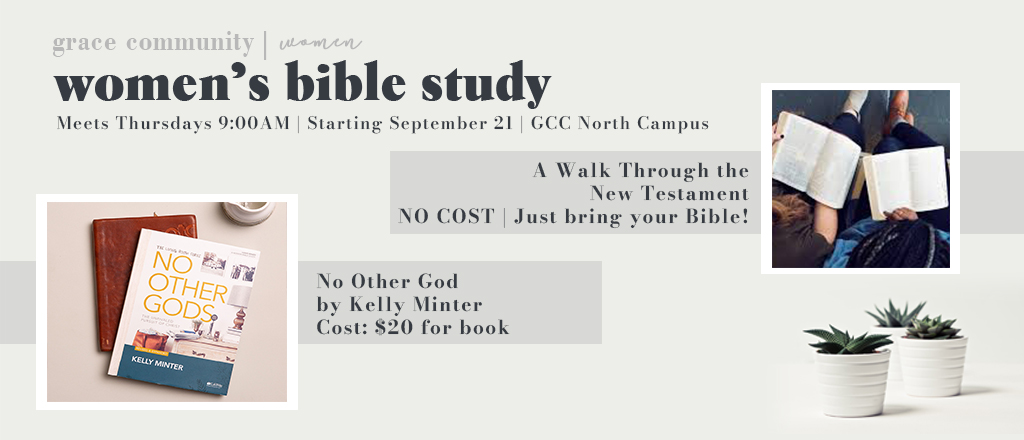 Join us on Thursday, September 23 at 9 – 11am for our Fall Women's Bible Studies.
Childcare is available but must be preregistered.
NO OTHER GOD | KELLY MINTER | $20 FOR BOOK
In this study you will learn how to identify the functional gods you may be unknowingly serving and the lies they tell. As you dethrone your modern-day idols, you will be set free to live the abundant life Jesus came to give you.
A WALK THROUGH THE OLD TESTAMENT | NO COST | JUST BRING YOUR BIBLE
Continue our journey through Genesis and Exodus and discover how the words from the beginning connect to the New Testament and the coming of Christ. In this study you will be guided through the Bible and discover treasures within it. Maps, history, people and connections will be made to reveal the bigger picture and give greater understanding and application for you today.
__________________________

Mom Collective at Grace
(Formerly MOPS*) A place for moms in all stages of motherhood to come together for friendship and encouragement. We meet two Tuesday mornings a month with childcare available for children ages 0-11. Our first meeting will be "Open House" style with activities for kids, Tuesday, September 21 in the GCC Student Center from 9:00-11:00 am.
Join us then to sign up for the Fall semester with meetings through January.
Cost is $20 per mom and $20 per child for the semester.
____________________________________________
MOM COLLECTIVE AT GRACE FALL SEMESTER DATES:
SEPTEMBER 21: Open House & Registration
OCTOBER 5 & 19
NOVEMBER 2,16, & 30
DECEMBER 14
JANUARY 11, 25
For more information contact our Women's Director, Christine De Haan,
*We've moved away from a MOPS International group to include moms of all stages--not limited to preschool. We want to provide a space for ALL of us to connect and support each other as we raise our children.